When you need to clear some space on your property, Palmer Cleanouts & Disposal is the team you can trust. Offering thorough trash removal, appliance disposal, construction removal, and more, we've been helping homeowners and office managers clean up their spaces since 2005. We provide some of the most reliable junk hauling in the Manchester area, guaranteeing prompt, punctual service every single time. At Palmer Cleanouts & Disposal, we're dedicated to serving a wide variety of customers. Whether you need total garbage removal for a real estate cleanout or want a contractor to tear down your rickety shed, we're the trash removal experts you can trust. Our team always arrives on schedule and works efficiently, and we'll leave your property in pristine condition. We even have a dumpster rental service if you'd like to do it yourself! For all of your junk hauling needs, Palmer Cleanouts & Disposal is here to help.

Trash Removal
Junk Hauling
Dumpster Rental
Construction Removal
Fully Insured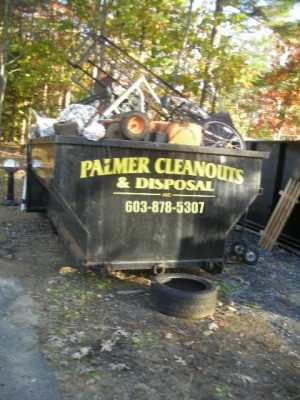 When it comes to trash removal for your home or office building, you want to make sure the team you hire for the project will perform a flawless job the first time. Wouldn't it be awful if your professional real estate cleanout left residual dirt and litter all over the floors? At Palmer Cleanouts & Disposal, you'll never have to worry about receiving anything less than the best workmanship in Manchester. Our trash removal, appliance disposal, and furniture disposal services are all done quickly but competently, ensuring you get the best results without the wait. When you want reliable garbage removal and junk hauling, Palmer Cleanouts & Disposal is your answer.
A family-owned business located in Fremont, New Hampshire, Palmer Cleanouts & Disposal was founded in 2005. We bring our fast, dependable trash removal services to residential and commercial customers throughout Southern NH and the Sea Coast Area, including Rockingham County, Manchester, Concord, Goffstown, Deerfield, Dover, Rochester, Portsmouth, Plaistow, Hampton, and Kingston. We guarantee that we'll arrive on schedule, and we take pride in our prompt, efficient work ethic. Once we're done, you'll be blown away by your spotless property!
For the professional junk hauling and garbage removal team you can trust, Palmer Cleanouts & Disposal is at your service. We're fully insured to give you the security and peace of mind you deserve. Call now to schedule a dumpster rental, speak with a contractor, or receive a free estimate!
Customers can call us directly at (603) 770-7551 or call our office at (603) 878-5307.